Many customers wonder if can gaming laptops be used for graphic design as the gaming and creative sectors continue to expand.
A Laptop or PC categorized as a "Gaming Laptop" is built to run graphically demanding games and other resource-intensive software smoothly, effectively, and efficiently.
As a Graphic designer, you require a gaming laptop with good performance to handle complex processes and high-level graphics.
A Gaming Laptop is appropriate for graphic design since you need to make sure the GPU, RAM, and CPU can handle creative graphics apps and are acceptable for your demands.
In this article, we are going to cover the differences between Gaming laptops and Graphic Design laptops and also tell you if gaming laptops can be used for graphic design or not.
Gaming Laptop: Overview
Source: lenovo.com
A Gaming Laptop is made with certain specifications, a built-in keyboard, a screen, and the ability to run games.
For a better gaming experience, gaming laptops , as opposed to normal laptops, support 4GB RAM or more and have larger screens, higher resolutions, and better visual displays.
A Gaming laptop is also the ideal tool for graphic design, allowing you to take text and visual components and incorporate them into numerous media forms.
We've also covered topics related to Gaming laptops in another post, which you can find here:
Graphic Design: Overview
Source: crucial.in
Graphic Design is a branch of communication design and a method of visual problem-solving that uses typography, infographics, iconography, illustration, and photography.
It is an art form with a definite goal to solve problems creatively and methodically in order to accomplish particular goals.
This entails the use of instruments and graphic components for the stylistic expression of concepts and actual ideas for successful advertising campaigns in print, offline, and internet media.
You may produce expert visual material, page layout hierarchy, images, and typography as a graphic designer using a gaming laptop that also runs graphic application software to convey messages to your audience.
Related Topic: Best Android Emulator for 1gb Ram PC without Graphics Card
Exploring The Key Differences Between Gaming Laptops and Graphic Design Laptops
Source: i.pcmag.com
| | | |
| --- | --- | --- |
| Specifications | Gaming Laptop | Graphic Design Laptop |
| Initial Use | Gaming Laptops are used for high-performance gaming. Mostly, gamers use Gaming laptops to play games smoothly. | Graphic Design laptops are used to create high-quality logos, images, videos, and 3D Modeling. Graphic Designers use Graphic Design laptops. |
| Processor | This laptop uses High-end CPUs for gaming performance (Intel Core i7 or i9, AMD Ryzen 7 or 9). | Because Graphic Designers need to switch tabs and applications as their work is multitasking that is why Graphic Design Laptop uses High-end CPUs for multitasking and rendering (Intel Core i7 or i9, AMD Ryzen 7 or 9) |
| Graphics Card | Gaming laptop needs high-performance to play games smoothly, that is why it uses dedicated, powerful GPUs (NVIDIA GeForce RTX or GTX, AMD Radeon RX). | Graphic design laptops also need high-performance because Graphic designers work on multiple applications that are high-quality apps. So, it uses Dedicated or integrated GPUs (NVIDIA GeForce GTX, AMD Radeon Pro, Intel Iris Xe). |
| RAM | For smooth gaming experience, Gaming laptops consist of 16 GB or more RAM. | For multitasking and resource intensive tasks, Graphic Design Laptops uses 16GB or more. |
| Display | High refresh rate (120Hz or higher), lower color accuracy. | High-Resolution (4K or QHD), wide color gamut, color-accurate. |
| Storage | Because gamers need to load games quickly, that is why these laptops give faster SSDs for quick game load. | Graphic Designers want to open their files quickly without any hang issues, so, this laptop gives SSD for fast access to files. |
| Battery Life | Shorter due to power hungry components | Longer, as components prioritize power efficiency |
| Price | Gaming laptops are very expensive due to specialized gaming components | Graphic Design laptops are slightly less expensive than Gaming Laptops. |
Check out our other posts on Gaming Laptop Vs Coding: What Is The Difference?
How Much Power Do You Need In a Laptop for Graphic Design?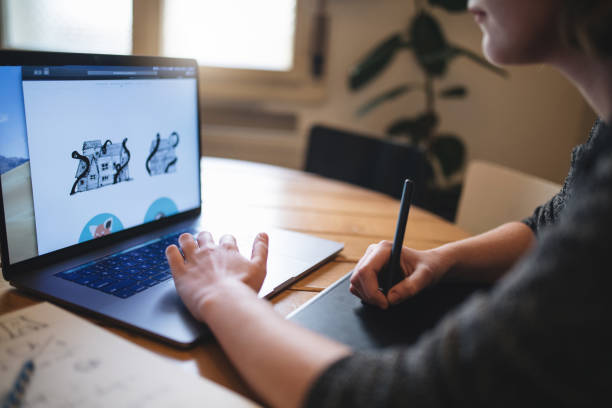 Source: media.istockphoto.com
For its software to run, graphic design needs more battery life, display, portability, and power than standard desktop applications. Despite the fact that there are some high-performance laptops for graphic design, there are a few things you should take into account when choosing a gaming laptop for your needs.
Also Read- Gaming Laptop Vs Video Editing Laptop: What Is The Difference?
Can Gaming Laptops be Used for Graphic Design?
Source: zdnet.com
Despite the fact that gaming laptops may not have been created expressly for graphic design , they do include a number of characteristics that can be useful to artists. Let's take a look at some pros and cons of using a gaming laptop for graphic design: –
Pros:
High-End processors: Gaming laptops often feature high-end processors, discrete graphics cards, and lots of Memory are frequently found in gaming laptops, giving them the necessary ability to run graphic design applications without stuttering.
Quick Storage: Gaming Laptops often include SSDs, allowing rapid project loading times and file access.
Cooling System: With gaming laptops, powerful cooling systems keep performance steady during resource- intensive tasks, preventing thermal throttling that might happen in regular laptops.
Cons:
Display Color Accuracy: Gaming Laptops frequently place a higher priority on high refresh rates than color accuracy, which may not be the best option for professionals who need accurate color representation.
Battery Life: Gaming Laptops frequently have shorter battery lives than laptops for graphic design, thereby limiting the mobility of creative professionals.
Conclusion
It is crucial to take into account a few particular specifications that will satisfy your needs while searching to purchase gaming laptops that are suitable for graphic design, such as:
Processor Memory Storage
Accuracy of the Color
Size and Type of Displays
These Choices and laptop models are cost-effectively priced
We hope this article will be helpful for you to understand that Gaming laptops can be used for graphic designing. You can consider these specifications before purchasing a Gaming laptop for Graphic Design.
If you enjoyed this article, be sure to check out our related posts on: